Would you like to get a notification on your phone every time MLBTR publishes an important story?  It's something we've offered for years for free and it's easy to set up.
First, download our free five-star Trade Rumors app for iPhone/iPad or Android.  When you open it for the first time, it will ask you if you want to receive notifications.  I recommend choosing notifications for Top Stories, which is just the right amount for me.
But perhaps you've had the app for a while, you didn't set up notifications initially, and you'd like to do so now.  The screen shots below will show you how to do that.  (Side note: if you're reading this post in the app, the screen shots won't actually be visible.  I know that's odd.  But for now if you're an app user and you want to view this post, go here in a web browser like Safari or Chrome).
Go to the home screen of the app.  It looks like this: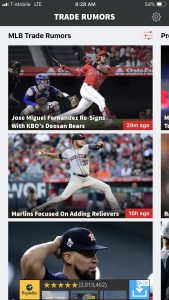 Go to the feed for which you want to set up notifications.  Maybe that's an entire sport,…


Read "How To Set Up Notifications For Breaking MLB Hot Stove News" at MLB Trade Rumors